Polpred.com Media Review database. Office Subscription
Commercial Proposal: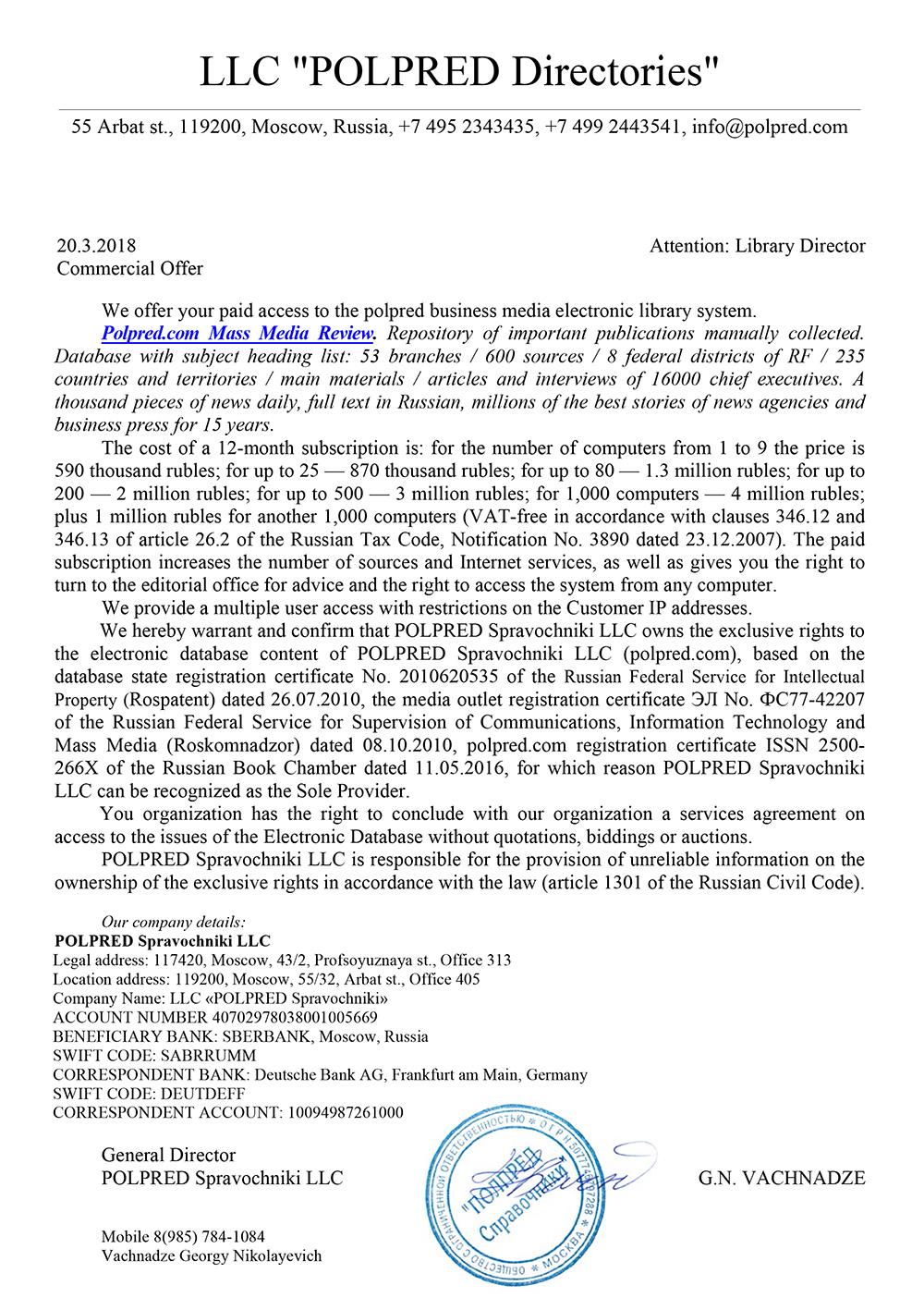 12-month subscription provides full access to all sections of the polpred.com portal: for the number of computers from 1 to 9 the price is 590 thousand rubles; for up to 25 — 870 thousand rubles; for up to 80 — 1.3 million rubles; for up to 200 — 2 million rubles; for up to 500 — 3 million rubles; for 1,000 computers — 4 million rubles; plus 1 million rubles for another 1,000 computers. The service is also available to the sponsor who pays. You can also subscribe by making a charitable contribution to the Council of Veterans of the Russian Foreign Ministry. It is also possible to subscribe to information on an industry sector or a country; annual access to polpred.com per one section costs 49 thousand rubles.

49 thousand rubles for 12 months: an economy sector; or a foreign country; or a Russian federal district.
98 thousand rubles for 12 months: «twin» sectors: Agribusiness. Timber Industry • Ecology. Medicine • Aviation Industry, automotive industry. Transport • Foreign Trade, politics. Customs • Oil, gas, coal. Electric Power Engineering • State budget, taxes, prices. Finance, banks • Metallurgy, mining. Chemical industry • Realty, building industry. Privatization, Investment • Army, police. Migration, visa, tourism • Mass Media, IT. Education, science.
149 thousand rubles for 12 months: archive and news of 5 foreign states and / or Russian federal districts.

Paid subscription to the entire polpred.com database is available only in the editorial office. This subscription provides more sources and Internet services, gives the right to consult the editorial office and provides access from any computer. Paid subscription enables public libraries to connect within the general package of subordinate municipal libraries. The presence of agreements with compilers of electronic library systems is taken into account in the appraisal of a library.

Payment is effected through the bank account of LLC POLPRED Spravochniki, the electronic payment systems such as Webmoney, Yandex.Money, Visa и Master Card, payments are also accepted through terminals, Internet banks, mobile operators (through Robokassa). Legal entities are provided a package of documents: copies of state registration certificates; guarantee of exclusive rights; a draft agreement/state contract, from the sole supplier.
The website has the following registrations: POLPRED Spravochniki database (Polpred.com) – Certificate No. 2010620535 оf 21 September 2010, the Russian Agency for Patents and Trademarks (Rospatent); media organization – Certificate El No. ФС77-42207 of 8 October 2010, Federal Service for Supervision of Communications, Information Technology, and Mass Media (Roskomnadzor); Polpred.com – Certificate ISSN 2500-266X of 11 May 2016, the Russian Book Chamber.
Interdistrict Federal Tax Sevice Office No. 46 for the city of Moscow on 16 May 2007 issued to LLC POLPRED Spravochniki two certificates: Series 77 No. 008587193 of incorporation OGRN (Pimary State Registration Number) 5077746797288; Series 77 No. 008587194  of registration with a tax authority INN 7727614260  KPP 772701001.